When does an LP not act like an LP? When it issues a 1099 at tax time, so you can avoid the complications of a K-1. KNOT Offshore Partners LP (KNOP) is one of a few LPs that has elected to be treated as a C-Corp, and issues 1099s to unit-holders at tax time. Thus, we are spared what some investors refer to as the "dreaded K-1."
Profile:
KNOT Offshore Partners LP owns and operates shuttle tankers under long-term charters in the North Sea and Brazil. The company provides crude oil loading, transportation, and storage services under time charters and bareboat charters. KNOT Offshore Partners GP LLC serves as the general partner of the company, and Knutsen NYK Offshore Tankers AS is their sponsor. The company was founded in 2013 and is headquartered in Aberdeen, UK.
To say that shuttle tankers are a niche industry would be putting it mildly – shuttle tankers comprise only around 1% of the world's conventional tanker fleet, and are a vital key solution for oil companies looking to monetize their product. Since many ports don't have the infrastructure to accommodate large tankers, producers charter shuttle tankers to get their oil into port. These are specialized vessels that take 2.5-3 years to build, so there isn't a lot of speculative new-building going on in this industry.
Fleet:
Like many of the high-yield stocks and LPs we cover in our articles, KNOP works on long-term, fee-based contracts, with strong counter-parties such as Statoil (NYSE:STO), Exxon Mobil (NYSE:XOM), and Royal Dutch Shell (NYSE:RDS.A) (NYSE:RDS.B).
This serves to provide stable cash flow for KNOP's distributions. The company now has an average of 4.4 years left on their fleet's contracts, with an additional average of 4.5 years extension at the charters' option.
Since their 2013 IPO, KNOP's fleet has grown 230% to 14 vessels with a low average vessel age of about 4.5 years, compared to the rest of the industry average, which is much older – around 12 years.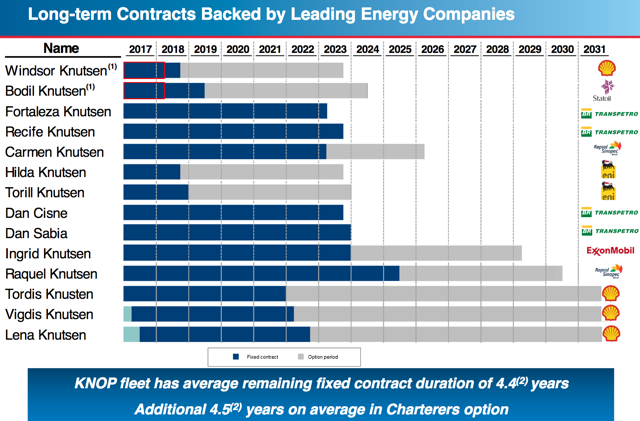 (Source: KNOP site)
Distributions:
Our High Dividend Stocks By Sector Tables track KNOP's price and current distribution yield (in the Services section).
KNOP pays their distributions in the usual Feb-May-Aug-Nov. cycle for LPs, but there's a big difference at tax time: unlike most LPs, it's elected to be treated as a C-Corporation for tax purposes, so investors receive the standard 1099 form and not a K-1 form. (Tell your accountant he owes you a beer.)
Management has held the quarterly distribution steady, at $.52, since October 2015 – it's ~39% above their targeted minimum distribution of $.375. Since their 2013 IPO, KNOP has paid common unit distributions of $8.74.
When asked about future distribution hikes on the Q3 earnings call, management replied, "The MLP has an elevated yield compared to most MLPs, and we therefore are focused on first rebuilding coverage and then deleveraging when not making accretive investments. There is little benefit to the MLP in the short term (in) paying much more than the current yield."

KNOP achieved record distribution coverage in the past two quarters, at 1.46x in Q3 '17 and 1.43X in Q2 '17:


Options:
KNOP has options, which we feature in our premium service, and didn't list here. But you can see details for over 25 other income-producing trades in both our Covered Calls Table and also in our Cash Secured Puts Table.
Earnings:
After a sub-par Q1 '17, KNOP has bounced back strongly in Q2 and Q3 '17. Q3 '17 saw 34% growth in Revenue, 29% EBITDA growth and 18% DCF growth.

KNOP hit record amounts for revenue, EBITDA, DCF, and net income in Q3 '17, due to their new vessels contributing to earnings.
In the last 12 months, the MLP has acquired the Raquel Knutsen in 2016 Q4, Tordis in Q1 2017, Vigdis in Q2 2017 and Lena Knutsen in Q3. "The fleet achieved strong performance with 99.7% utilization for scheduled operations and 99.3% utilization, taking into account the scheduled drydocking and repair of Carmen Knutsen. We completed the acquisition of Lena Knutsen, which is a five-year charter to Shell." (Source: Q3 '17 earnings call)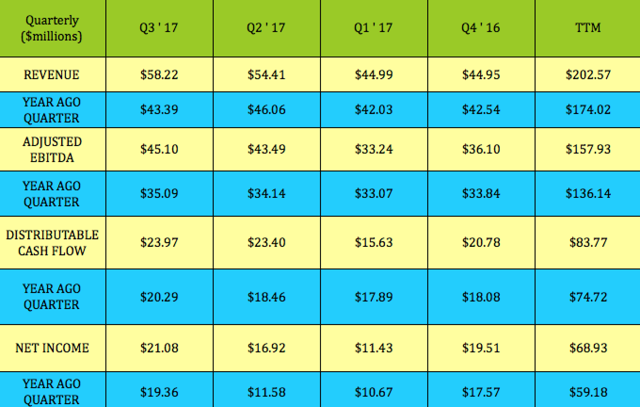 Even with the unit count growing by 9%, distribution coverage has grown from an already strong 1.24x factor to 1.28x, over the past four quarters: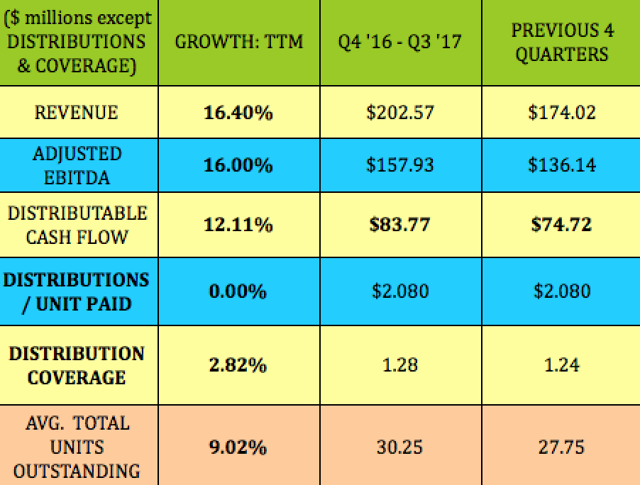 This table compares the low end of KNOP's 2017 guidance, pro-rated for three quarters, to their actual figures for Q1-3 '17. So far, they've exceeded their net income and EBITDA guidance, and narrowly missed their DCF, distributions and coverage ratio guidance:
Risks:
Dilution/Coverage: Since LPs pay out the lion's share of their cash flow, they must periodically go to the debt and equity markets to raise more capital for further expansion. (See the Financials and Debt and Liquidity sections at the bottom of the article for more information about current debt levels.)
On 11/6/17, management announced a secondary public offering of 3,000,000 common units, representing limited partner interests in the Partnership. This 10% dilution caused their price to fall well over 12%, to around $20.00.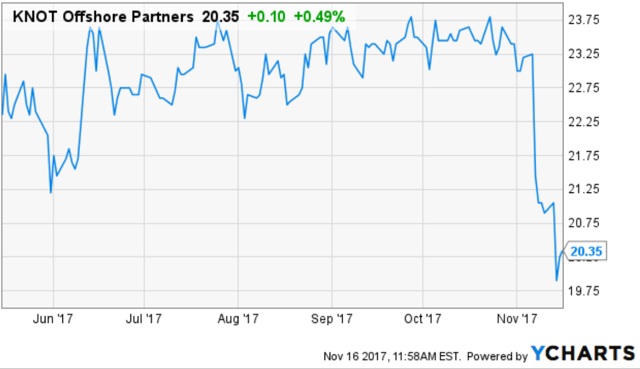 But therein lies the opportunity – with KNOP's ample distribution coverage, that $.52 quarterly distribution isn't going away. Even with a 10% higher unit base, they should still achieve good coverage.
3M more units at $.52/unit = $1.56M in additional payouts/quarter. In Q3, they paid out $17.39M in total distributions, so this would rise to ~$18.95M. If DCF is flat, coverage would still be ~1.26x, with plenty of leeway.
Management did warn on the earnings release that in Q4 '17, "the Partnership's earnings for the fourth quarter of 2017 will be affected by the planned drydocking and repair of the Carmen Knutsen, which is expected to be offhire for 73-75 days until mid-December 2017. Offsetting this offhire will be the Lena Knutsen, which is expected to operate for the entire fourth quarter. There is no further expected offhire for the fleet during the fourth quarter of 2017″ (Source: Q3 '17 earnings release).
So we could see DCF fall, with the Carmen Knutsen being out for ~2.5 months, unless the new vessel, the Lena Knutsen is able to pick up the entire slack. Either way, we see KNOP maintaining good distribution coverage for the long term, which is why we bought more units on the dip.
Contract Expirations – Management has been working on renewing/extending contracts for some of their vessels which had contracts expiring in late 2017 (Windsor Knutsen) and in 2018 (Hilda and Torill Knutsen). So far, it's gotten the Windsor extended to October 2018.
The company addressed this on the Q2 earnings call:
The Windsor Knutsen has been on a two-year contract from 13th of October 2015 with Brazil Shipping, a subsidiary of Royal Dutch Shell with a further six years of extension options. In July '17, the first option is listed taken charter codes reaching October 2018."
The company still has plenty of time to re-contract the Hilda Knutsen and Torill Knutsen, whose contracts expire at the end of Q3 '18 and Q4 '18, respectively. Also in their favor is the fact that these are highly specialized vessels, which would take 2.5 to 3 years to replace.
Privately held Preferred Units: Management sold a total of 4.1M preferred units in two private placements in February and May.
These 8% (~$2/unit annually) preferred distributions will take seniority over common units in any liquidation scenario, in addition to lessening the amount of DCF available to pay common unit distributions, by around $1-2M/quarter.
However, as we detailed above, KNOP's distribution coverage hit records in Q2 and Q3 '17, even after accounting for the preferred payouts.
Positive Developments:
Management elaborated about current trends and developments concerning their sub-industry and their sponsor Knutsen NYK on the Q3 earnings call.
As our production moves further offshore, these tankers operate in a space which will see substantial growth in the coming years. Some of the largest discovered oil reserves in the southern hemisphere are in pre-salt layer, 130 kilometers off the coast of Brazil. And Petrobras, for the month of September, oil and natural gas output on those proportions of 1.68 million barrels of oil equivalent average daily production, a 6.6% increase from the previous months and higher than last year's average."

Petrobras Transpetro have requested tenders for shore tankers and whilst have not been specific about numbers, we believe their requirement will be for at least 4 vessels initially. Although our MLP is young, our sponsor is a very experienced operator, having been involved in the design and construction of these type of vessels for over 30 years."
Concerning future dropdowns, they said, "We will see when we get this Torill financing out of the way and perhaps, we'll see how the equity market looks. I think probably early next year, first quarter next year, we might send that ship dropping to the MLP. But that's subject to the factors on equity we can raise and what kind of financings we do. So it can be longer than that. But after that, we'd probably take a bit of a breather."
Analysts' Price Targets:
At $20.25, KNOP is over 16% below the average price target of $23.57, and 23.5% below the high price target of $25.00.

Estimates are mixed – with average EPS estimates rising over the past seven days for Q1 '18, 2017, and 2018, but a mix of upward and downward EPS revisions for those same periods, and two downward revisions for next quarter: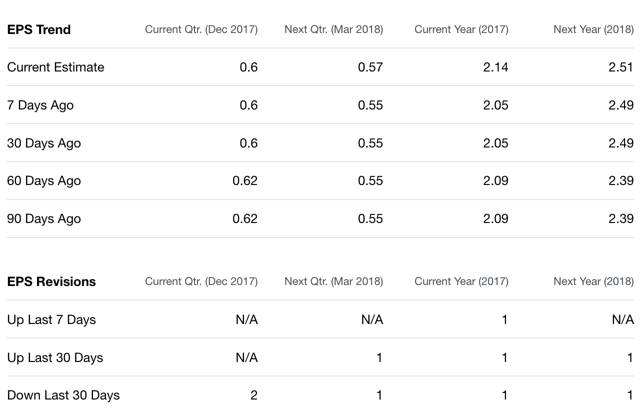 (Source: YahooFinance)
Performance:
KNOP was outperforming the market and the Guggenheim Shipping ETF (NYSEARCA:SEA) over the past year, until the November pullback. At $20.25, the stock is only 2% above its 52-week low.

Valuations:
Although KNOP isn't an LNG tanker company, we've added them this LNG shipping company valuations table to compare the company to other tanker companies we cover in our articles, such GasLog Partners LP (GLOP), Golar LNG Partners LP (GMLP), and Dynagas LNG Partners LP (DLNG). The table also includes Teekay Offshore Partners L.P. (NYSE:TOO), the closest comparative company we could find, and Hoegh LNG Partners LP (HMLP).
KNOP is in the lowest tier of this small group, for price/DCF, price/book, and price/sales. Their 10.27% distribution yield is above average also: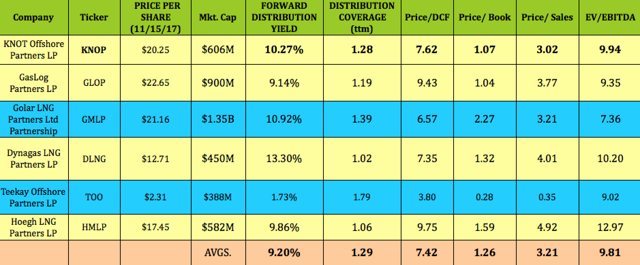 Financials:
Like most LPs, KNOP's debt levels wax and wane over time as the company takes on debt to finance new vessels, and those vessels begin to contribute to earnings. The company ended Q3 '17 at a net debt/EBITDA level of 6.11x, up substantially from Q3 '16, but also much lower than their peak of 7.15x. Their ROE ratio has improved over the past two quarters, while their ROA is lower than it was in Q3-4 '16, due to a higher asset base and higher depreciation and amortization charges:

KNOP is in a lower margin business than these LNG carriers, but their financial metrics are certainly much better than Teekay's, the other shuttle company in the group:


Debt and Liquidity:
In the year-to-date, to finance the growth of acquisitions, we have raised both $145 million of new equity and $100 million of long-term debt, and $25 million of credit facilities, all on attractive terms."

At the end of Q3, we had a very solid liquidity position with cash and cash equivalents of $38.1 million and undrawn credit facility of $12 million. And the credit facilities are available until mid-2019."

The Partnership announced that its subsidiary, KNOT Shuttle Tankers 15 AS, which owns the vessel Torill Knutsen, has entered into a term sheet for a new $100 million senior secured term loan facility with The Bank of Tokyo-Mitsubishi UFJ, which will act as agent. The New Torill Facility is expected to be repayable in 24 consecutive quarterly installments with a balloon payment of $60.0 million due at maturity. The New Torill Facility is expected to bear interest at a rate per annum equal to LIBOR plus a margin of 2.1%. The facility is expected to mature in 2023 and be guaranteed by the Partnership. The new Torill Facility would refinance a $74.4 million loan facility associated with the Torill Knutsen that bears interest at a rate of LIBOR plus 2.5% and is due to be paid in full in November 2018. Closing of the New Torill Facility is anticipated to occur by the end of 2017." (Source: KNOP Q3 '17 release)
With the new Torill Facility, KNOP's first maturity is in 2019:

(Source: KNOP Q3 '17 release)
Summary:
We rate KNOP a long-term buy, based on their very attractive yield, their distribution coverage, and their secure position, via long-term contracts within their niche industry.
All tables furnished by DoubleDividendStocks.com, unless otherwise noted.
Disclaimer: This article was written for informational purposes only, and is not intended as personal investment advice. Articles posted on SA aren't meant to be all-inclusive white papers by any means. Please practice due diligence before investing in any investment vehicle mentioned in this article.
Disclosure: I am/we are long KNOP, GLOP, GMLP.
I wrote this article myself, and it expresses my own opinions. I am not receiving compensation for it (other than from Seeking Alpha). I have no business relationship with any company whose stock is mentioned in this article.