It's been a rather forgettable year for shareholders in New York Community Bancorp (NYSE:NYCB). While the rest of the financial sector has surged, NYCB stock has been left for dead. Here's the financial sector ETF (NYSEARCA:XLF) (red line) and the regional banks ETF (NYSEARCA:KRE) (yellow line) as opposed to NYCB in blue since the election last November.

I previously wrote about NYCB with my article The Sky Isn't Falling in May. Since then, the stock has been flat once you count dividends. Indeed the sky wasn't falling, but I'd been hoping for a rally. Instead, New York Community has continued to trail other regional and national banks. NYCB initially popped following Trump's victory – along with the sector – but it's been downhill since then.
That's all about to change though. New York Community has trailed the market due to a specific problem. That is that NYCB is on the threshold between being a regular bank and a systemically important bank. Following the financial crisis, regulators put in place a rule that causes banks with total assets of more than $50 billion to face greatly enhanced oversight.
The threshold is high enough that not many banks were caught right at the $50 billion figure. However, New York Community Bank has been stuck up against the limit for years now. This arbitrary limit has caused a great deal of trouble for the bank, since any additional growth would cause NYCB to trip the limit and see its regulatory costs shoot up.
The bank tried to resolve this problem by merging with Astoria Financial, a move that would have catapulted the bank far over the $50 billion threshold. However, the merger fell apart. And, in the process of preparing for the merger, NYCB cut its dividend and issued new stock. Those moves, combined with the failed merger, greatly irritated much of the shareholder base, and the stock ended up largely abandoned. Hence the steady trade down from $17 into the 12s over the past year. Read NYCB articles at Seeking Alpha and elsewhere, and you'll find there's still plenty of resentment and revulsion toward the management team – understandable in the heat of the moment, but at this point, the past is past, and it's not worth dwelling on any longer.
For years now, almost every quarter, we see NYCB perform well, but it is forced to sell off most of the new loans it makes. The bank operates in a quality niche within the New York City market where it has access to a large pool of low-risk loans. NYCB's loan losses are among the lowest you'll ever see for a national bank of its size. However, instead of getting to hold these high-quality loans and make steady profits, as most banks do, NYCB issues new loans and then immediately sells them to stay clear of the $50 billion limit.
As such, investors have looked at the bank as a dead stock, good for its 5%+ dividend, but not much else. Without any possibility of growth, NYCB stock may look more like a bond. I've been long the stock for awhile now, not just for the dividend but also for the possibility that the arbitrary $50 billion cap would be raised.
And now, at last, it's finally happening. NYCB stock popped pretty aggressively on Monday, but there's a lot more coming assuming this catalyst plays out. What's the news?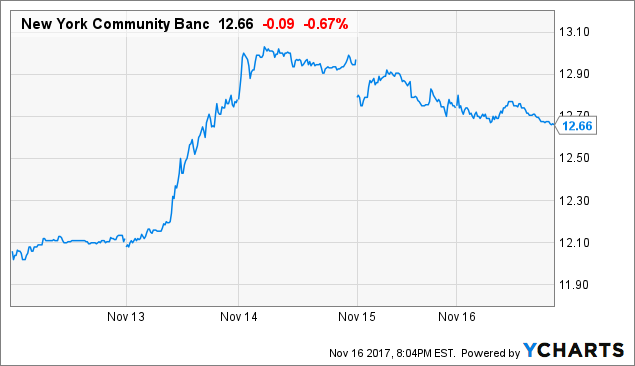 NYCB Price data by YCharts
On Monday, reports surfaced that the Senate banking committee is preparing a bipartisan bill that would repeal some of Dodd-Frank's most restrictive provisions, including the SIFI limit which has been the thorn in NYCB's side. The bill specifically plans to raise the SIFI limit to $250 billion and has the support of nine Democrat and Independent senators.
Now, I'll be the first to say that it's been a bad bet to invest on the assumption that Trump can get any legislation passed in 2017, even through his own party. However, the SIFI limit in particular, and tough banking regulations in general are one area where there is substantial support within both parties for changes. In fact, there was a sizable contingent of Democrats that wanted to relax the banking rules, post-crisis, during the Obama era. And, on the Republican side, it seems unlikely that you'll find too many votes against freer markets and fewer regulations. The bill would give Democrats a tangible example of them not being obstructionist, while allowing Trump to point to something in particular that he'd signed which should lead to job creation.
In short, there are a lot of reasons why a bill like this should be able to pass, even in a generally acrid political climate. It follows the historical pattern as well, where financial institutions are given more and more liberties until a crisis, and then the government hastily cracks down again. At nearly a decade out from the last crisis, and with banks exceptionally well-capitalized at the moment, there's good reason to think the banks will be able to achieve a looser regulatory environment.
What's it mean for NYCB specifically? If a bipartisan bill along these lines passes, the bank can immediately go back into growth mode. The bank trades cheaply now because the market is assuming that it can't grow. When it flips back into growth mode, the rally will be a lot bigger than the 6% or so that we saw on Monday.
It's also worth considering that NYCB has far less exposure to rising interest rates than most other banks, due to its short-duration loan book and reliance on wholesale funding. This was viewed as a negative when the market had assumed that the yield curve would be moving up sharply, as New York Community had less exposure (it actually loses money as interest rate spreads rise!)
The Financial Times explained it well earlier this year:
New York Community Bank, one of the largest US lenders, is facing a potential hit to annual profits from higher interest rates. While the earnings dent should be manageable for the $49bn-in-assets lender, the forecasts show there are some exceptions to the rule that increased borrowing costs will be good for the sector. […]

For a smaller group of lenders, however, higher rates are expected to spell lower profits. The largest is NYCB, which estimated in the small print of its most recent quarterly filing that a 1 percent rate rise would cause its net interest income to drop 3.9 percent. […]

Most banks can benefit from higher rates because they push up interest charges for borrowers while keeping deposit rates lower for longer. The widening gap between what they earn on assets and the cost of their funds should lift profits. NYCB has a different business model, however. It focuses on commercial real estate loans with terms fixed for several years, giving it less scope to increase interest charges.
However, now that the yield curve has plunged to new 5-year lows, more than wiping out the entire Trump rally, NYCB is among the best-positioned for this unexpected interest rate climate. As other banks see declining NIMs, NYCB gets relief on its short-term borrowing costs and doesn't have nearly as much to lose from the long-end rates going down since it doesn't lend for duration.

To sum up, NYCB is still yielding 5.3% and has massively underperformed its rivals over the past year. That despite its main obstacle (the SIFI limit) going away soon, and the interest rate curve taking a massive turn in NYCB's favor as compared to peers.
At this point, NYCB stock is still down simply for past perceived sins. You still see authors demanding that NYCB's management resign due to the stock's underperformance for the past couple years. Classic "what have you done for me lately?" thinking.
It's worth remembering that NYCB's long-time CEO Joseph Ficalora took the company from seven branches in New York City to a 255 branch bank that is 24th-largest in the country. The stock performance over the past 23 years (as far back as my data source goes) has been jawdroppingly good: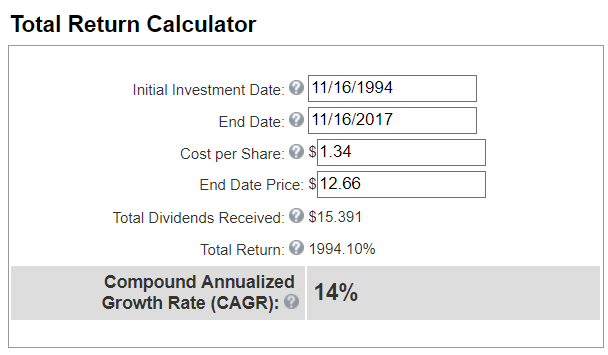 NYCB sailed through the financial crisis with hardly a scratch, and in total, has compounded at 14%/year for the past 23 years, producing a total return of 1,994% over that stretch. One of the best banks in the US in fact. It's short-sighted, to say the least, to demand that management leave because they had to play it conservatively for the last few years due to an arbitrary government limit that crushed their ability to grow. With that limit going away, the good times are back for NYCB. Put another way, you won't have much time left to buy this stock with a 5%+ yield.
Disclosure: I am/we are long NYCB.
I wrote this article myself, and it expresses my own opinions. I am not receiving compensation for it (other than from Seeking Alpha). I have no business relationship with any company whose stock is mentioned in this article.