Based on price action, Tilray Inc. (NASDAQ:TLRY) is currently the most exciting name in the very hot Canadian pot stock space. Also based on price action, Novartis AG (NYSE:NVS) is a boring Big Pharma stock. While I have previously warned investors that pot stocks are unlikely to be good buy-and-hold stocks, TLRY seems to have its supporters.
A point of difference between TLRY and other pot stocks is that it has a collaboration with Sandoz Canada, the Canadian arm of Sandoz, Novartis AG's generics business. The aim of this article is to see if this collaboration justifies any of the current hype surrounding TLRY and if it might be something worth getting excited about for NVS investors.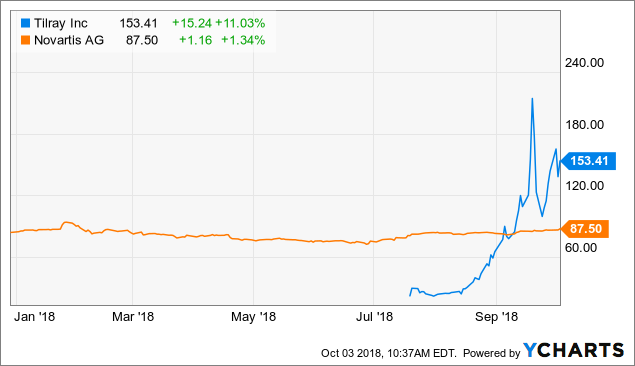 Figure 1: 2018 has been another boring year for NVS but an exciting beginning for TLRY
The TLRY-Sandoz Canada alliance
On March 18, 2018, TLRY issued a press release noting it had signed a binding letter of intent, which in concert with anticipated agreements to follow, allied TLRY with Sandoz Canada. TLRY noted it had become the exclusive collaborator of Sandoz Canada to "accelerate innovation and increase availability of high quality medical cannabis products." So TLRY and Sandoz were set to sell cannabis together.
On June 19, 2018, Sandoz Canada announced that it had finalized the collaboration agreement. It noted that eight TLRY-Sandoz co-branded, non-combustible medical cannabis products were now available, including three dosages of capsules and five strengths of oils.

Figure 2: Eight products available under the TLRY-Sandoz Canada alliance. Source: TLRY website.
The Canadian medical cannabis market
Although legal access to cannabis for medical purposes in Canada came online during the period of 1999-2001, the initial framework for patients to access cannabis, coupled with the unwillingness to prescribe by many physicians, led to an initially tepid pace of growth. From humble beginnings, however, the medical cannabis market in Canada has transformed into a sizable industry.
Arcview Group and BDS Analytics have suggested the Canadian legal cannabis industry will generate $1.3 billion in 2018 ($600 million of that from medical use) and $5.4 billion in 2022 ($500 million of that from medical use). The predicted drop in revenues from medical cannabis is based on the fact that legalization may lead to those previously obtaining cannabis via the more complex medical route to simply obtain it as those using cannabis recreationally will. There are, however, two key factors which might offset patients switching from obtaining cannabis via the medical route to the newly legal recreational route come October 17, 2018. The first factor is that physician attitudes to prescribing cannabis continue to improve, which means prescribing might continue to increase, generating new patients.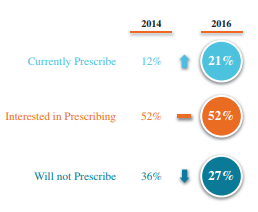 Figure 3: Results from two studies examining attitudes among Canadian physicians to prescribing cannabis. The two studies were commissioned by CanniMed Therapeutics (OTC:CMMDF), which was subsequently acquired by Aurora Cannabis Inc. (OTCQX:ACBFF). Source: CMMDF prospectus.
The second factor is the recent commencement of coverage for medical cannabis by Canadian health insurers. For example, in February, Sun Life (NYSE:SLF) announced it would offer optional medical marijuana coverage of up to $6000 yearly per person in select conditions, including cancer pain and rheumatoid arthritis. In June, Markers Financial Inc. announced it too would soon offer coverage for medical cannabis prescriptions. For patients with insurance coverage, it may not make sense to access cannabis by the recreational route, although this will depend how much they would normally spend on cannabis.
Should NVS investors get excited?
The initial press release concerning the TLRY and Sandoz collaboration was just from TLRY – not TLRY and Sandoz (a Novartis division) or TLRY and NVS itself. Compare that to other developments which Sandoz felt it was worth bothering investors with, such as a collaboration with Biocon (OTC:BCNQY) to develop biosimilars. The same can be said of NVS, which does tend to issue a press release on major collaborations and their developments.
However, the website of Sandoz Canada does include press releases related to its collaboration with TLRY and medicinal cannabis. Now, this might seem like a simple way to analyze the impact of this new collaboration, but the point is that if NVS hasn't bothered investors with this development, it might not be hugely material. If Sandoz Canada is talking about it, then it is relevant on the level of Sandoz Canada, which is not a stock you can buy.
NVS reported net sales of $49.1 billion in 2017, so even if Sandoz Canada and TLRY captured the entire Canadian legal medical cannabis market (say $500-600 million), that would not be a game changer for NVS. Rather, such an unlikely scenario (capturing an entire market) would be similar to NVS getting a new drug approved which is not quite a blockbuster. Then, Sandoz Canada's entry into the Canadian medical cannabis space can be thought of as simply another recently approved drug in the NVS portfolio.

Figure 4: Breakdown of NVS sales by geographic region, including Canada/Latin America, and by division. Source: NVS 2017 annual report.
For the medical cannabis space to become more important to NVS's bottom line, Sandoz Canada and NVS will need to do two things. The first would be to grow the market in Canada, don't let it peak as the recreational route becomes legal. The second thing would be NVS (or other regional arms of Sandoz) to enter the medical cannabis space in other countries. NVS investors should keep an eye out for that second potential development, because the Sandoz Canada-TLRY collaboration does suggest that NVS is taking cannabis seriously, and so, collaborations in other countries seem possible (not necessarily with TLRY). Combined medical cannabis revenues from multiple countries could be a bit more meaningful for NVS and its investors.
Regarding attempts not to let the legal medical cannabis market peak too soon in Canada, Sandoz Canada is making moves. One of the attempts to further legitimize medicinal cannabis in the minds of unwilling physicians can be seen in a recent PR from Sandoz Canada, where the company essentially suggested pharmacies could serve as an ideal place to dispense medicinal cannabis.
If cannabis is used to treat a medical condition, Sandoz Canada believes that it should be distributed through appropriate channels to properly regulate the therapeutic intent of the treatment. If medical cannabis is authorized by a healthcare professional, it would be logical for it to be distributed by another professional, such as a pharmacist, so that patients can benefit from adequate follow-up and guidance from healthcare professionals if they wish. Sandoz Canada will share this vision during the upcoming consultation launched by the Ontario government.

– Sandoz Canada press release, August 15, 2018.
Even if the market doubles or holds steady thanks to the efforts of Sandoz Canada and others in the space, NVS will need to enter other worldwide markets before the cannabis business becomes a big line item on the balance sheet. NVS investors can stop here then.
Should TLRY investors get excited?
Although the medical cannabis market is not the size of the recreational market, TLRY does have some potentially competitive products worth review. One of the oils available as part of the Sandoz Canada collaboration is Tilray 2:100 (also known as TIL-TC150), which contains 2 mg/mL of Δ9 tetrahydrocannabidiol (THC) and 100 mg/mL of cannabidiol (CBD). On August 1, TLRY issued a press release noting published results from a phase 2 study of TIL-TC150 in children with a type of epilepsy called Dravet syndrome (notably, these patients had drug-resistant epilepsy). Twenty children in the study received TIL-TC150, 19 of them completing 20 weeks of treatment with TIL-TC150 being used as an add-on to existing anti-convulsant therapy. There was no control group in the study, but the drug did produce a statistically significant improvement in quality of life – and a statistically significant reduction in seizure count – at week 20 (compared to baseline).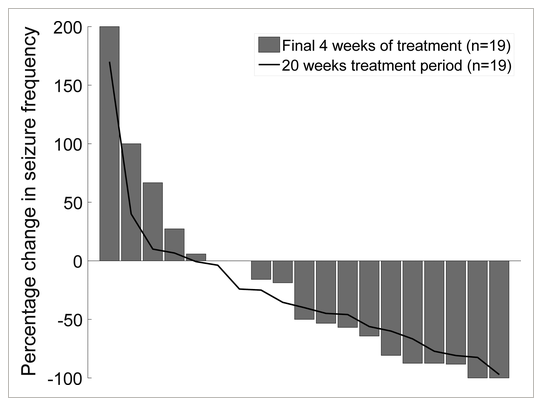 Figure 5: Change in seizure frequency based on patient seizure diaries. Each column represents a patient, and the percentage change is calculated based on a comparison of weeks 17-20 (endpoint period of the study) to weeks -4 to 0 (lead-in portion of the study when patients were not on TIL-TC150). Five patients did experience an increase in seizures based on that comparison, whereas two patients were unchanged and 12 experienced a decrease in seizures (two patients had a 100% reduction and were thus seizure-free during weeks 17-20). The overlaid line represents the average change in seizures frequency across the 20 weeks of treatment. Source: Publication in Annals of Clinical and Translational Neurology.
Despite the size of the study I find the results to be quite promising. I would like to see TLRY run follow-up studies, which the press release indicates TLRY will, with some sort of control group (be it placebo or active comparator). TLRY is not really a biotech/pharma company, although it is making drugs and selling them, and so, it might need some help furthering that clinical development. The phase 2 study in Dravet syndrome was designed and conducted by researchers at The Hospital for Sick Children in Toronto. Larger studies might require enrollment across multiple sites, and so, more expertise might be required to plan such studies, including hiring a contract research organization. TLRY might also need to make new hires to bring additional expertise on board (TLRY has some of the necessary people on board already). Another possibility is a partnership with a company with expertise in clinical development. With a partnership with Sandoz Canada already in place, the possibility of NVS stepping in to help with clinical development seems like a bright idea, although this is speculation on my part.
One last thing worth noting about the August 1 press release is the clarity with which the results and their meaning were presented. The press release even noted the limitations of the phase 2 study (that is not something seen often from biotech companies). I have to give TLRY some credit for its transparency.
A limitation in this study concerns the small number of participants, the majority of whom were already taking a prescribed antiepileptic drug. Tilray donated product for the trial and funded the research. Next steps include additional research with more participants and variable doses of combined THC/CBD.

– TLRY communicates clearly with investors in its August 1, 2018, press release.
If the company is to continue clinical studies on its medical cannabis products, it would do well to note the methods of GW Pharmaceuticals plc (NASDAQ:GWPH), which has been successful in its studies.
TLRY is no GW Pharma competitor yet
GWPH is a biopharmaceutical company with a market cap of ~$4 billion, focused on the development and marketing of plant-derived cannabinoid therapeutics. The company has marketing approval for Sativex (an oralmucosal spray containing THC and CBD in a 1:1 ratio along with other minor cannabinoids) in a number of ex-US territories, including approval in 21 European countries.
GWPH has run placebo-controlled, double-blind, randomized clinical trials demonstrating the efficacy of Sativex in spasticity due to multiple sclerosis (including a 572-patient study published in 2011 and a 337-patient study published in 2013). It is currently in phase 3 trials in the US for the same indication, and so, approval is likely not far away in that market (Sativex is already available in Canada).
The company also markets Epidiolex (plant-derived CBD), which was recently approved in the US for Dravet syndrome and Lennox-Gastaut syndrome. A timeline for submission of Epidiolex to the regulator in Canada is unclear.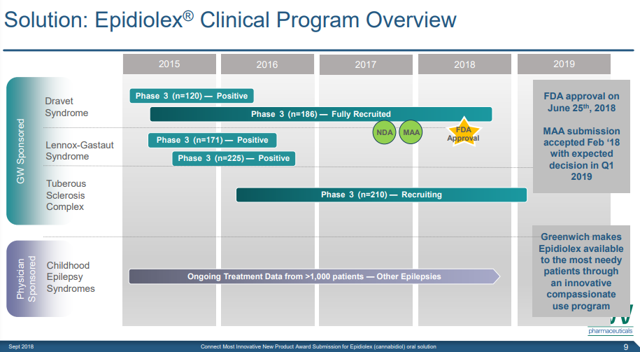 Figure 6: GWPH has produced an impressive body of clinical research with Epidiolex as it did with Sativex. Source: Company investor presentation.
It seems likely that Epidiolex, should it gain approval in Canada, is going to have an advantage over non-approved formulations like TLRY's Tilray 2:100 in Dravet syndrome and Lennox-Gastaut syndrome (as much as I like the data seen with Tilray 2:100). Physicians could prescribe Epidiolex to their patients like they would any other drug for epilepsy and know they are getting a product which has undergone multiple clinical trials and is approved by the Canadian regulatory authority. Now TLRY could one day seek approval for its products, but GWPH is obviously far ahead, with Sativex already on the market and Epidiolex already having completed clinical studies in two indications.
… we are working hard to make EPIDIOLEX available within the next six weeks as we know there is excitement for a standardized version of cannabidiol that has undergone the rigor of controlled clinical trials and been approved by the FDA.

– GWPH comments in September 27, 2018, press release. Note these comments apply to the US market, but a similar argument could be made for the Canadian market, were Epidiolex approved.
In summary, GWPH represents a likely TLRY-Sandoz competitor in certain groups of patients (seizure disorders and potentially off-label use), but also a competitor that has laid down the pathway to develop and gain approval of cannabis-derived pharmaceuticals. Of course, TLRY needs to continue down the recreational cannabis road given the size of that market. Nonetheless, a phase 3 study of something like Tilray 2:100 would attract a lot of positive attention, as an approved product can be sold at a much higher price point, and as discussed above, some physicians may have a strong preference for something that has been run through rigorous clinical trials.
Final remarks
While I am excited about TLRY's collaboration with Sandoz Canada, particularly products such as Tilray 2:100 given the studies behind it, I feel that the Sandoz name will only take TLRY so far. Revenues from the medical cannabis space may peak as Canadian patients simply acquire products via the recreational route, and those going via the medical route may end up on competitors' cannabis products or even approved drugs (Sativex and, potentially, Epidiolex). As other pharma players like Johnson & Johnson (NYSE:JNJ) and Apotex seem to be interested in entering, or have entered, the medical cannabis space, the market share held by TLRY-Sandoz can easily be divided. Even if the $600 million market size for 2018 remains in years to come, and TLRY could capture 20 percent of it, would $120 million per year in revenues be worth getting that excited about for a company which already has a $13 billion+ market cap?
Unlike Canopy Growth Corporation (OTC:CGC) or Hexo Corp. (OTCPK:HYYDF), TLRY doesn't yet have a major collaboration with or investment from a beverage maker. I find the current partnership with Sandoz Canada to be a poor substitute for a large deal with a beverage maker. Meanwhile, TLRY isn't yet ready to do what GWPH has. Although it could follow in GWPH's footsteps in the future, the recreational market is likely lower-hanging fruit near term. If TLRY could do something similar what CGC has done in securing a multi-billion dollar investment from Constellation Brands (NYSE:STZ), then it might be possible to get behind a multi-billion dollar market cap. Until that happens, I remain bearish on TLRY at these prices despite my enthusiasm for the company's medical cannabis products, clear communication and potential to follow in GWPH's footsteps. Investors would do well to take profits on TLRY at current prices and come back when it is cheaper or has a deal worth getting excited about.
Disclosure: I/we have no positions in any stocks mentioned, and no plans to initiate any positions within the next 72 hours.
I wrote this article myself, and it expresses my own opinions. I am not receiving compensation for it (other than from Seeking Alpha). I have no business relationship with any company whose stock is mentioned in this article.