In our constant quest for value, we regularly screen dozens of REITs weekly in order to find a diamond in the rough. While it's impossible to eliminate all investment risk, we look to minimize it by selecting securities with a significant margin of safety.
As Warren Buffett told an audience at Columbia Business School in 1984 (for the 50th anniversary commemoration of the original Security Analysis):
You do not cut it close. That is what Ben Graham meant by having a margin of safety. You don't try to buy businesses worth $83 million for $80 million. You leave yourself an enormous margin. When you build a bridge, you insist it can carry 30,000 pounds, but you only drive 10,000-pund tricks across it. And that same principle works in investing."
The margin of safety is the essence of value investing because it's the metric by which hazardous speculations are segregated from bona fide investment opportunities. As Benjamin Graham wrote in The Intelligent Investor, the value investor's purpose is to capitalize upon "a favorable difference between price on the one hand and indicated or appraised value on the other."
Surveying our list of filtered investment opportunities, we have identified a REIT that is worthy of ownership. As I explained in a recent article,
Once a moat is created, it must grow. The weaker firms are usually losing market share, and unable to raise prices to offset their costs, or being undercut by competitors…companies that are able to withstand the relentless onslaught of competition for long stretches are the wealth-compounding machines that we want to find and own."
Identifying a moat-worthy company involves careful consideration of the company's industry, its current competitive position within that industry, and the "economic moat" around the company; that is, a sustainable competitive advantage that helps preserve long-term pricing power and profitability. Warren Buffett (Fortune 1999) summed it up as follows,
The key to investing is …determining the competitive advantage of any given company and, above all, the durability of that advantage. The products or services that have wide, sustainable moats around them are the ones that deliver rewards to investors."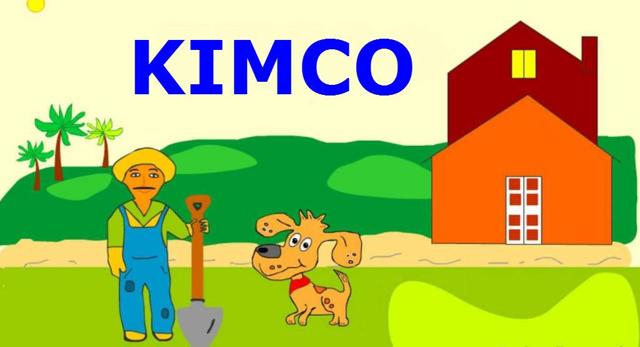 The Case For Kimco
Kimco Realty (KIM) is the owner and operator of the largest publicly traded portfolio of neighborhood and community shopping centers in North America. The company was founded in 1958 and listed shares in 1991. In 2006, Kimco was added to the S&P 500 Index.
As of Q3-17, KIM's well-balanced portfolio consists of 507 U.S. shopping centers comprising 84 million square feet of leasable space across 35 states and Puerto Rico. KIM focuses on major U.S. metropolitan markets: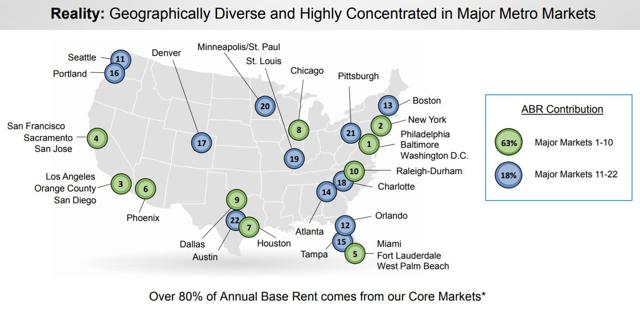 KIM has a very diverse revenue model with over 8,800 leases with 4,100 tenants. The company has well-staggered lease maturities with limited rollover in any given year; averages ~8% of GLA over next 10 years. 4 of KIM's top 5 tenants are Moody's investment grade and only 14 tenants have ABR exposure greater than 1.09%.

Reviewing KIM's top 10 tenant list, I consider Kohl's (NYSE:KSS) and Bed Bath & Beyond (NASDAQ:BBBY) the highest risk. However, Kohl's has low leverage and I like the recent announcement for "accepting Amazon.com returns at certain U.S. locations." As Richard Schepp, Kohl's chief administrative officer, explains,
This is a great example of how Kohl's and Amazon are leveraging each other's strengths – the power of Kohl's store portfolio and omnichannel capabilities combined with the power of Amazon's reach and loyal customer base."
Also, Bed Bath & Beyond is still trying to find its groove as "revenue and profit growth have been on a downward trajectory for some time." Bed Bath & Beyond represents just 1.9% of Kimco's ABR (average base rent) and Kimco's diversified business model provides powerful risk management: with over 8,700 individual leases, a significant margin of safety advantage.
Also, community centers are the most recession-resistant shopping centers and KIM's "open-air" focus makes the case that the company will continue to benefit from growth. As illustrated below, only 5% of KIM's portfolio is internet vulnerable: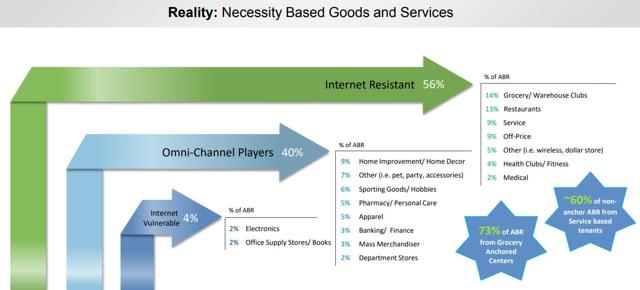 Quality locations are where the retailers will always want to be, and the quality of Kimco's portfolio continues to improve. Since 2010, the company has sold over $6 billion of real estate, recycling the proceeds into higher quality assets and reducing the size of the portfolio from over 900 to 508 assets.
The result is a higher quality portfolio concentrated in the best markets in the US. By focusing on high barrier to entry markets and executing on the company's unique customer strategy, Kimco has become more efficient and able to drive greater value-creation.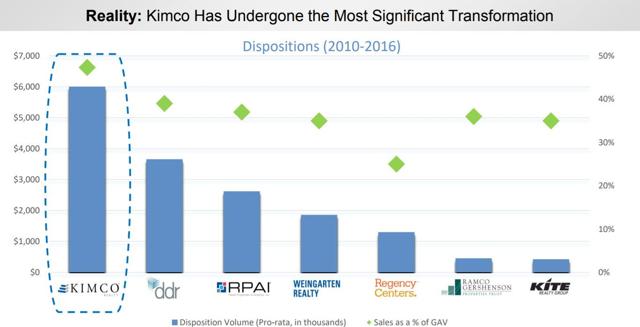 Kimco remains on track to sell five non-core assets for $62 million, at a mid-7% cap rate. This brings the company's sales total for the first nine months of 2017 to 21 shopping centers and three land parcels for a gross price of $331 million. Kimco has another 19 assets, either under contract or with price agreements, for a total of approximately $185 million that should have closes by year-end.
Balance Sheet Improvements
Kimco has been very active on the balance sheet front: The company issued $850 million in unsecured bonds, $500 million at 3.3% and $350 million at 4.45% with a weighted average life of 16.7 years. Also, Kimco completed the $206 million refinancing of the mortgage at the Tustin property with a new 13-year mortgage at a reduced rate of 4.15% versus 6.9% previously and issued $225 million of perpetual preferred stock.
Proceeds from the bond and preferred offerings were used to redeem $225 million of 6% preferred, $211 million of 4.3% bonds due in 2018 and to repay the outstanding balance on the revolving credit facility.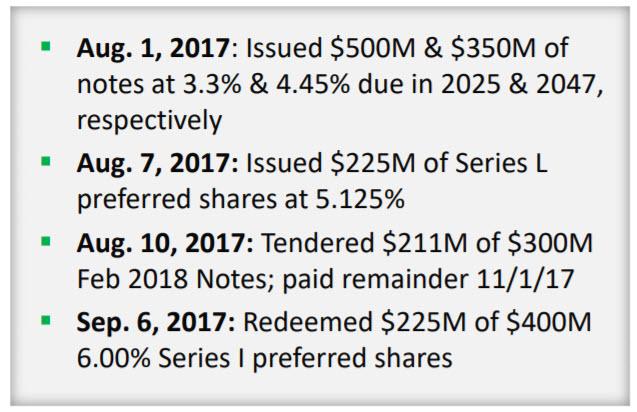 As a result of these transactions, Kimco's weighted average debt maturity now stands at 10.8 years, one of the longest in the REIT industry. The company has over $2 billion of immediate liquidity with less than $100 million of debt maturing in 2018.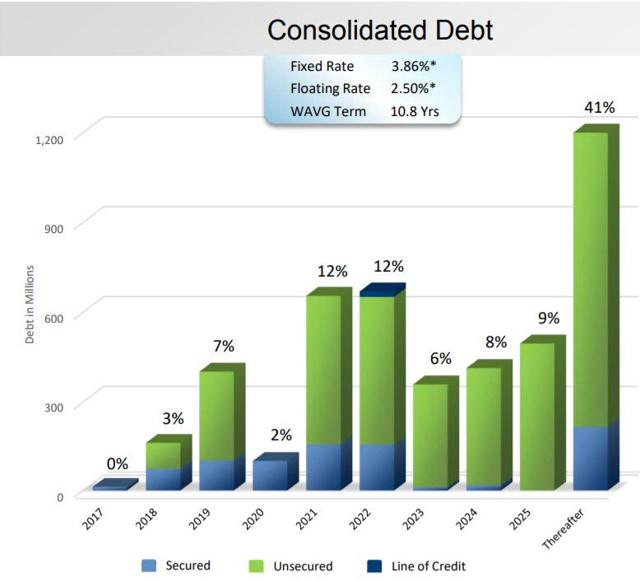 As I explained in a recent article, "it appears that Kimco could become an 'A' rated REIT during the next year or two. KIM has similar ratings with Moody's and Fitch."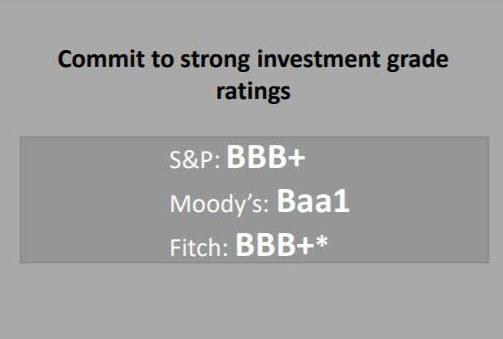 I only mention the likely credit upgrade because I want to compare KIM with the peers when I examine the valuation metrics at the end of this article. It's important to recognize the quality of KIM's dividend power, and the potential for multiple expansion.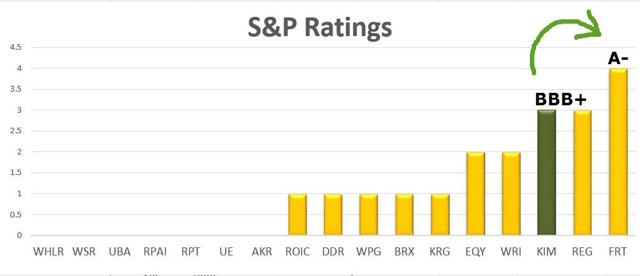 Note: I will compare Regency Centers (REG) and Federal Realty (FRT) to Kimco at the end of the article. It's important to understand the comparison as Kimco is striving to move into the upper echelon (A-rated) by focusing on its balance sheet.
The Latest Earnings Results
The strength of Kimco's real estate portfolio continues to shine as the company had another strong quarter led by our leasing activity that produced positive double-digit leasing spreads and an increased occupancy level. As illustrated below, occupancy is pushing toward all-time high and continues to validate the quality of the portfolio.

Leasing is the most direct and important creator of value, whether it comes from filling vacancies, renewing existing tenants, preleasing redevelopment and development projects or realizing mark-to-market opportunities.
One example of this is Kimco's ability to transform and reposition specific assets. Specifically, Kimco signed new leases at strong leasing spreads that included the recapture of three former Kmart boxes in Q3-17.

Redevelopment and development continue to be a part of Kimco's long-term growth strategy. In Q3-17 Kimco achieved several critical milestones that will pave the way for future success.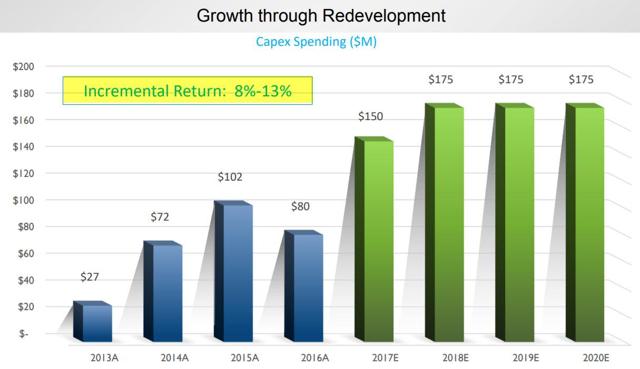 It's important to keep in mind that Kimco has over $360 million invested in development projects which are not earning today, thus impacting FFO growth in the short-term. These development projects will begin slowing in stages in the latter half of 2018 and into 2019.

Kimco's operating portfolio continues to deliver positive results. Same-site NOI growth was 3.1% for Q3-17 and includes negative 20 basis points impact from redevelopments.
For the nine months, same-site NOI growth was 1.7% with no incremental contribution from redevelopments, as the company started a number of new redevelopment projects that have been completed. The Boulevard redevelopment project is an example of this: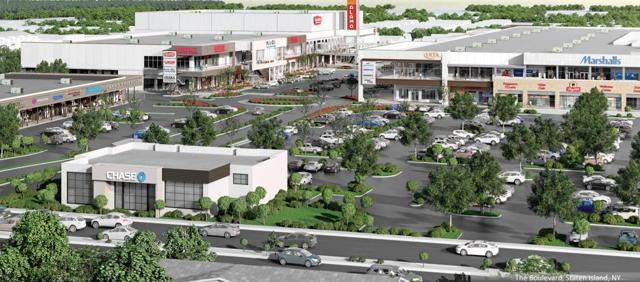 For Q3-17, Kimco reported NAREIT-defined FFO per diluted share of $0.39 per share, which includes $0.03 per share of foreign currency gain on the substantial liquidation of the Canadian investments. Also included is a $0.02 per share charge attributable to the preferred stock redemption, prepayment of bonds, and some land impairments.
NAREIT-defined FFO per share for the third quarter in 2016 was $0.18 per diluted share and included transactional expenses totaling $0.20 per share from the early repayment of debt and the deferred tax valuation resulting from the merger of the taxable REIT subsidiary into the REIT.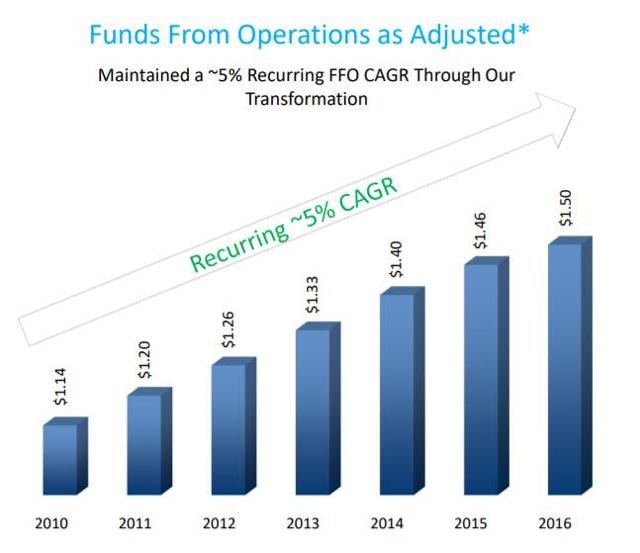 FFO as adjusted (which excludes transactional increment expense and non-operating impairments) was $161.3 million with $0.38 per share, the same per share level as Q3-16.
Based on Kimco's nine-month results (of NAREIT-defined FFO per diluted share) of $1.17 and FFO as adjusted per diluted share of $1.13, Kimco has narrowed the guidance range for FFO to $1.55 to $1.56 per diluted share from the previous range of $1.53 to $1.57 per share. Similarly, Kimco narrowed the FFO as adjusted per diluted share guidance range to $1.51 to $1.52 from the previous range of $1.50 to $1.54.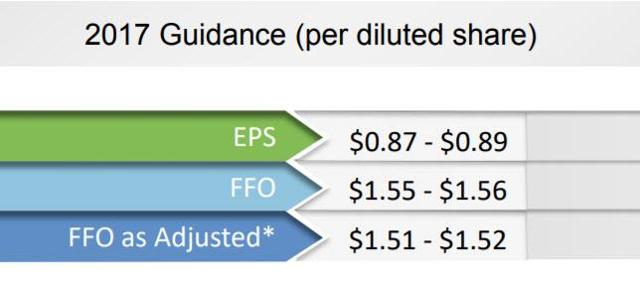 Also, Kimco's Board approved an increase in the common stock quarterly cash dividend to $0.28 per share from $0.27, an increase of 3.7%. The increased dividend level represents a conservative and safe dividend payout ratio in the low 70s.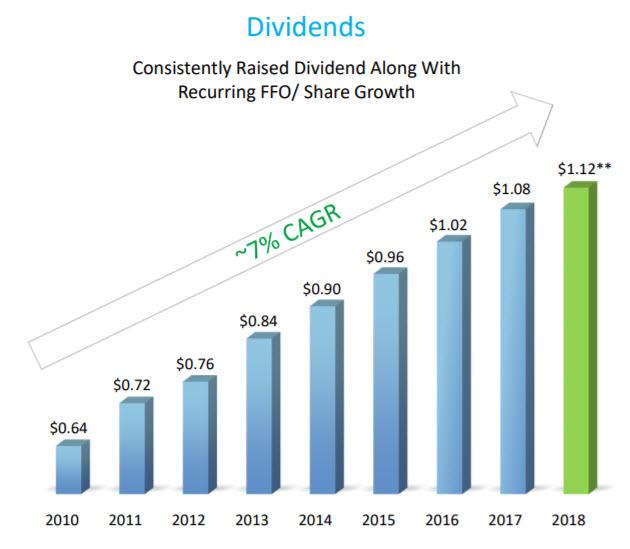 I Know A REIT That Screens Dirt Cheap And Kimco Is Its Name-O
Whenever the financial markets fail to fully incorporate fundamental values into securities prices, an investor's margin of safety is high, hence the title to my article today:
I Know A REIT That Screens Dirt Cheap And Kimco Is Its Name-O
Let's define "dirt cheap" by viewing the chart below:

We have not seen $16.55 in over five years. In fact, we have not seen $16.55 since 2010…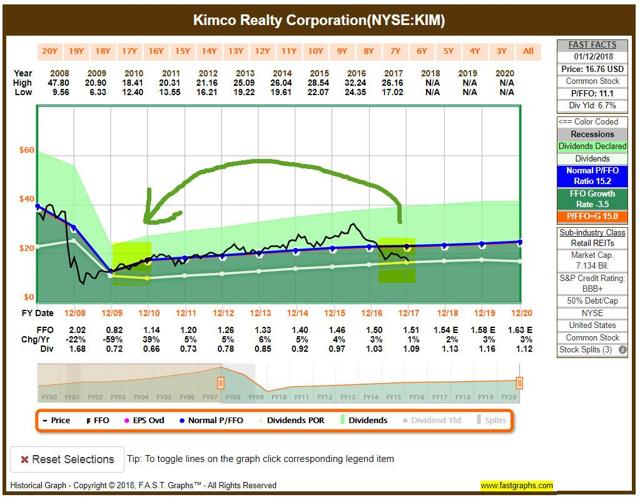 So why has Kimco underperformed the peers? (Note: REG and FRT are shaded in light purple):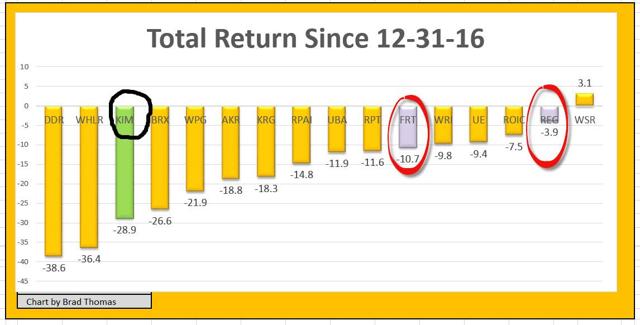 Let's compare Kimco's dividend yield with the peer group (FRT and REG shaded in purple):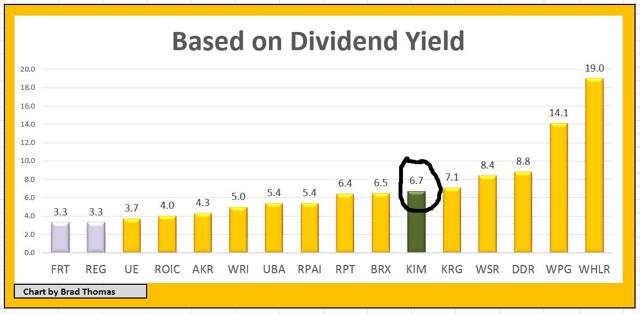 Now let's compare the P/FFO multiple (FRT and REG are shaded in purple):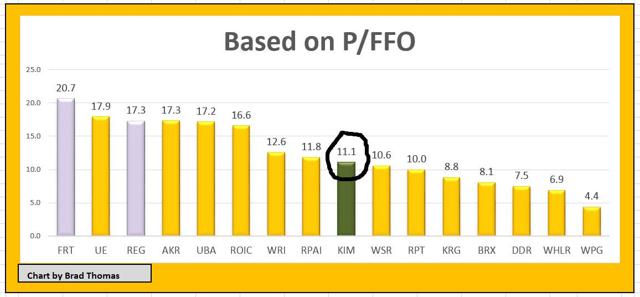 Wow, or shall I say…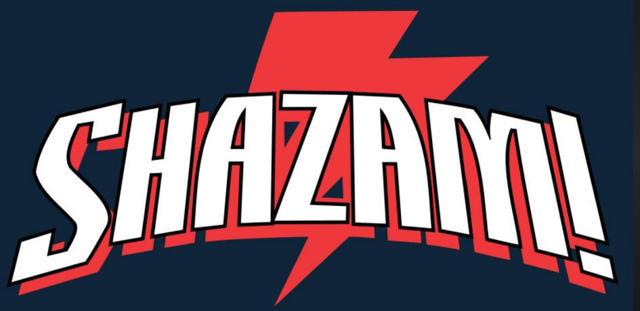 Kimco is not just cheap, this puppy is "dirt cheap." Let's take a look at consensus FFO/share growth (data: F.A.S.T. Graphs)…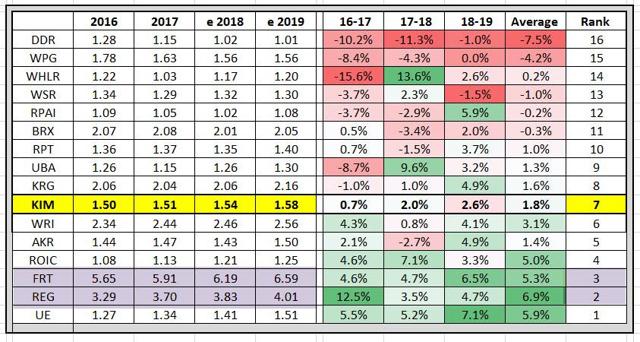 We can now see that Kimco doesn't rank high in terms of FFO/share growth (REG averaging 6.9% and FRT averaging 5.3%, compared to Kimco's 1.8%). However, as illustrated below, Kimco is moving out of its flat-line growth and the substantial development pipeline should kick in this year and next. Also, according to the National Retail Federation, "Americans spent more than expected this holiday season, fueling the strongest growth in holiday retail sales since the end of the Great Recession."
Holiday sales rose to $691.9 billion in November and December, marking a 5.5% increase from the year before, according to the National Retail Federation. The lobbying group had forecast holiday spending growth of 3.6% to 4%.
Many retailers say they saw a bump in sales during the important holiday season. Kohl's reported a 6.9% increase in holiday sales at stores open at least one year, while sales rose 3.4% at both Target (TGT) and J.C. Penney (JCP). Tax Reform should certainly serve as a catalyst too as many retailers are in the highest tax brackets and savings will be significant.
Kimco is well-positioned to benefit and the strong locations serve as the primary moat giving the company an edge. Also, economies of scale provide another moat characteristic that allows Kimco added diversification. Most importantly, and not recognized by the market, is Kimco's disciplined balance sheet. Since the end of the last recession (Kimco did cut its dividend in 2008), Kimco has done an excellent job at managing its balance sheet and this provides the company with excellent financial flexibility to maneuver the choppy retail storms.
Arguably, Kimco does not deserve the same multiple as REG or FRT, but there is certainly room to grow the multiple from 11x to 15x. I am maintaining a Strong Buy, and I Know A REIT That Screens Dirt Cheap And Kimco Is Its Name-O.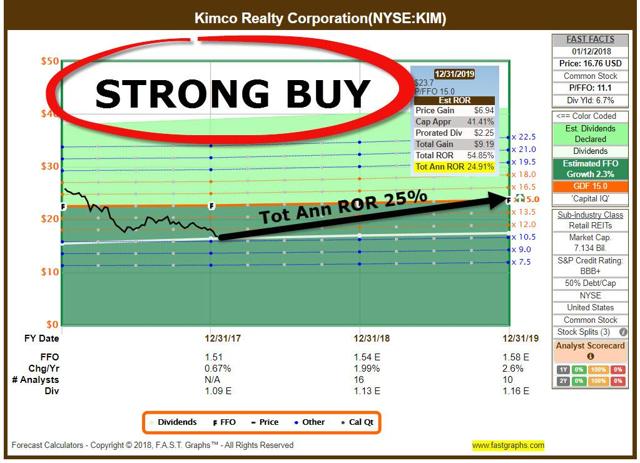 More: Getting Under The Hood Of The Newest Kimco Preferred
Other REITs mentioned: WHLR, WSR, UBA, ROIC, FRT, RPAI, REG, WRI, RPT, DDR, WPG, BRX, UE, AKR, and KRG.
Note: Brad Thomas is a Wall Street writer, and that means he is not always right with his predictions or recommendations. That also applies to his grammar. Please excuse any typos, and be assured that he will do his best to correct any errors if they are overlooked.
Finally, this article is free, and the sole purpose for writing it is to assist with research, while also providing a forum for second-level thinking. If you have not followed him, please take five seconds and click his name above (top of the page).
Source: F.A.S.T. Graphs and KIM Investor Presentation.
The Intelligent REIT Investor is the #1 REIT Research site on Seeking Alpha. Brad Thomas and Rubicon Associates have a combined 40 years of investing experience. We publish exclusive research content on over 100 REITs, and our Durable Income Portfolio has returned over 12% YTD. We recently announced that the Small Cap REIT Portfolio has returned over 20% YTD.
Our service includes weekly property sector updates and weekly BUY/SELL picks. We provide most all research to marketplace subscribers and we also provide a "weekender" report and a "motivational Monday" report. We stream relevant real-time REIT news so that you can stay informed.
There is absolutely no reason to chase yield… let us do all of the heavy-lifting so you can "sleep well at night." SUBSCRIBE HERE
Disclosure: I am/we are long ACC, APTS, ARI, BRX, BXMT, CCI, CHCT, CIO, CLDT, CONE, CORR, CUBE, DDR, DEA, DLR, DOC, EPR, EXR, FPI, FRT, GEO, GMRE, GPT, HASI, HTA, IRET, IRM, JCAP, KIM, LADR, LAND, LMRK, LTC, MNR, NXRT, O, OFC, OHI, OUT, PEB, PEI, PK, QTS, REG, RHP, ROIC, SKT, SPG, STAG, STOR, STWD, TCO, UBA, UMH, UNIT, VER, VTR, WPC.
I wrote this article myself, and it expresses my own opinions. I am not receiving compensation for it (other than from Seeking Alpha). I have no business relationship with any company whose stock is mentioned in this article.