On October 30, 2018, General Electric (GE) reported its widely anticipated Q3 2018 financial results, which were not well-received by the market.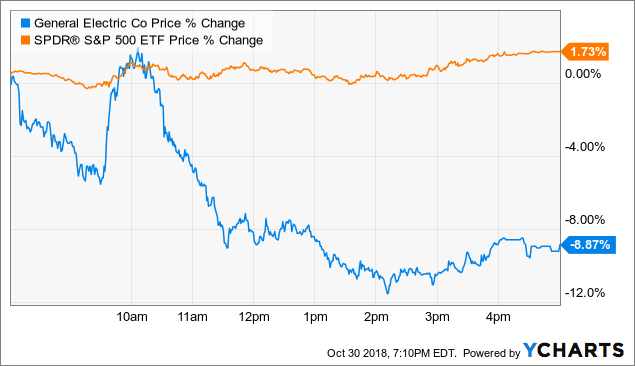 The stock is currently trading close to single digits and some pundits are still calling for further downward pressure for GE shares. As I described in "Thoughts On GE Heading Into Judgment Day", I wanted to hear from GE's new CEO, Mr. Larry Culp, about several key themes (the Power struggles, SEC investigations, and how well the 'other' businesses are performing), which are items that I will touch on in this article, but, first, I will cover the news that is getting all of the attention – that is, the shrinking dividend.
It Hurts So Good
Make no mistake about it, GE had to cut its dividend. Yes, the company has enough cash on hand to cover the previous payout, but it simply did not make business sense for GE to use much-needed capital to keep a specific investor base happy. I have long took the stance that GE should cut the dividend so the move to reduce the quarterly payment from $0.12 to a token $0.01 should be welcomed news, at least in mind.
The dividend cut may hurt now, but I believe that Mr. Culp made a prudent business decision. To this point, GE simply could not afford to maintain the rich dividend based on the company's cash flow metrics.

Source: Q3 2018 Press Release
GE will need capital for many different reasons as the company enters 2019, but the most notable items are: restructuring efforts (spins and additional sales/spins), potential buildup of insurance reserves, paying down debt, and shoring up the pension position. The reduced dividend will save the company around $3.9B in cash per year, which is meaningful for GE at this point in time. As such, the dividend cut should hurt so good, of course, if you are interested in staying the course.
Q3 2018 Results: Way Too Many Walks
GE reported adjusted Q3 2018 EPS of $0.14, which missed the consensus estimate by $0.06, on in line revenue of $29.6B. The major takeaway from the noisy earnings release is the fact that GE's new CEO will definitely have to continue to deal with a lot of moving pieces in the months/years ahead.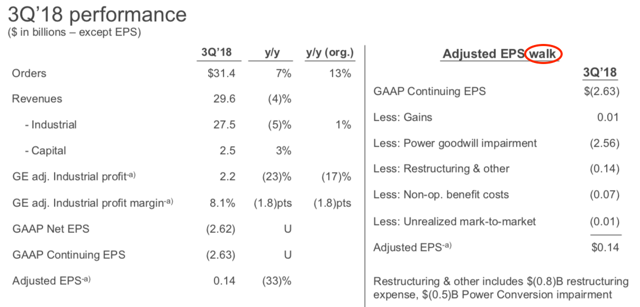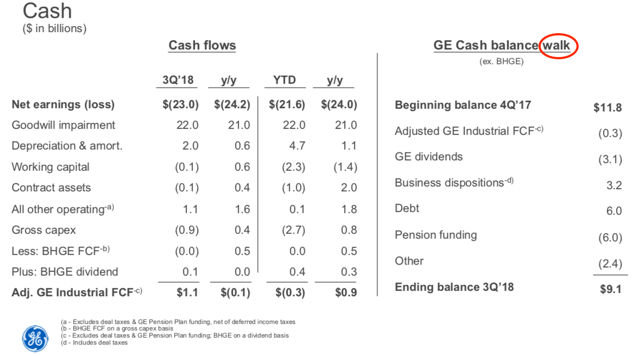 Simply put, there are way too many "walks" to consider. The $22B goodwill charge was already well-telegraphed, but the important news was the fact that management plans to reorganize GE Power into two separate businesses in order to "further improve [its] cost structure, enhance execution agility, and drive better outcomes for customers and investors". In plain English, I believe that management is separating the good from the bad in order to isolate what may be sold and/or spun off in the future.
Importantly, both of the new Power units – (1) a Gas lifecycle business and (2) a portfolio of the Steam, Grid, Nuclear and Power Conversion businesses – will now report directly to Mr. Culp. During the conference call, Mr. Culp stressed the importance of fixing Power and moving quickly to right the ship. Remember, Mr. John Flannery, former CEO, said that Power is a multi-year turnaround so the new CEO seems to be taking a different approach.
As expected, the last three months was not a great period of time for the Power unit, but there were some positive takeaways from the results from other businesses.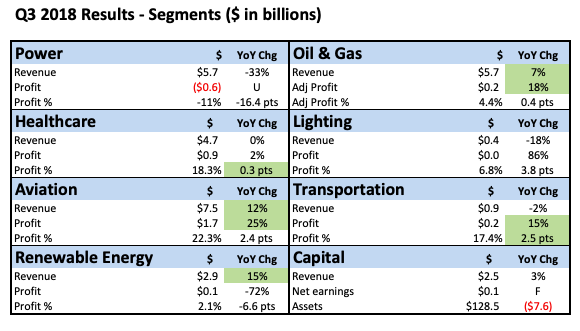 Source: Table created by author with data from Q3 Earnings Presentation
Some of the positive developments are highlighted in green, with the most notable items being Aviation's impressive results. Everyone knew Power was going to be a disaster over the last three months, but it was all of the other stuff that has investors concerned about GE's near-term prospects.
The Real Risks
No one should downplay the risks that come with Mr. Culp attempting to turn around the Power unit, especially if he is moving quickly, but, in my opinion, the risk factors that should be front of the mind are the SEC/DOJ investigations and the potential need to further strengthen the insurance reserves.
It was announced that the Department of Justice ("DOJ") joined the SEC in investigating GE's accounting practices with the recent charges ($22B goodwill impairment and $6B insurance reserve adjustment) being the main focus. These types of cases typically only result in settlements and fines (i.e., not enough to materially change the investment thesis), but I believe that there may be some significant issues that could be uncovered from the reviews. As an accountant by trade, I usually run for the hills when investigations like these are announced, but I plan to only monitor/evaluate the developments as they get released until I determine if the risk is too much to handle. I do want to mention that the risk level continues to climb higher and the stock may soon fall into the 'do not touch' category if the news keeps trending the same direction.
An analyst recently warned investors that GE could still end up booking billions of dollars in additional insurance reserves, even after the $15B commitment announced a few months ago. On the other hand, there are some analysts that actually believe that GE is starting the trend by strengthening its long-term care reserves (read this article) and that other companies will be playing catch up. It's hard knowing who will be right, but any way you slice it, there is a great deal of uncertainty that needs to be considered when it comes to the adequacy of the company's insurance reserves.
It will likely take time for these two risk factors to play out, but I believe investors should closely monitor any new developments on the investigation and reserve fronts.
Bottom Line
It is pure speculation, but I think GE's stock would not have finished down almost 10% if the financial community only had to worry about a Power turnaround and a dividend cut. Instead, shareholders will need to keep an eye on the Power struggles and restructuring efforts, the SEC/DOJ investigations, the spins/asset sales, the potential for additional restructuring plans announced in 2019, and financial leverage questions (i.e., pension deficit, debt balance, and credit rating). This is a lot to factor in and, in my opinion, plenty of investors will not have the patience to stay the course and/or they will decide that there are other more suitable places to put money to work in the industrial space – makes sense, right? Therefore, shareholders that plan to hold onto their shares should expect a bumpy ride over the next 12-18 months.
Again, I believe that GE is a 3- to 5-year story so I will continue to hold onto my position, but, in my opinion, I would avoid putting new capital to work in this industrial conglomerate until more is known about (1) the SEC/DOJ investigations and (2) the adequacy of the long-term care reserves. GE's other businesses are performing well, but I believe that the risk level for this industrial conglomerate continues to tick higher so it is hard to get excited about the stock, even after the recent pullback.
Disclaimer: This article is not a recommendation to buy or sell any stock mentioned. These are only my personal opinions. Every investor must do his/her own due diligence before making any investment decision.
Disclosure: I am/we are long GE, BHGE.
I wrote this article myself, and it expresses my own opinions. I am not receiving compensation for it (other than from Seeking Alpha). I have no business relationship with any company whose stock is mentioned in this article.