The past few weeks have seen several developments that have the very real potential to be quite beneficial for investors in Norway's Equinor (EQNR). This is a company that has looked rather undervalued for quite some time now, particularly when compared to its big oil peers in the United States. This is likely due both to the company not being included in any of the major American indices such as the S&P 500 (SPY) that American investors typically hold passively as well as many of them feeling somewhat uncomfortable at the Norwegian government having a two-thirds stake in the business. However, as I explained in a recent article, Equinor is truly a great company that deserves a place in the portfolio of every energy investor. In this article, we will discuss a few of the developments that are likely to benefit investors going forward.
On Tuesday, July 3, 2018, Equinor submitted a plan to develop the massive gas fields located in the Western portion of the Troll field offshore Norway. According to the plan, the company would invest a total of NOK 7.8 billion ($936 million) to develop the gas field, which would provide enough gas to meet the needs of fifty million European households for the next thirty years. As the development of the field would cost less than $1 billion and Equinor would have total production costs of under $10 per barrel of oil equivalent, we can expect the 2.2 billion barrels of oil equivalent that the company will ultimately extract from the field to yield significant profits. Indeed, as Equinor vice president Margareth Oevrum stated, "This is probably one of the most profitable and robust projects in the company's history."
The Troll oil and natural gas field is one of the largest fields known in the North Sea, holding approximately 40% of Norway's gas reserves.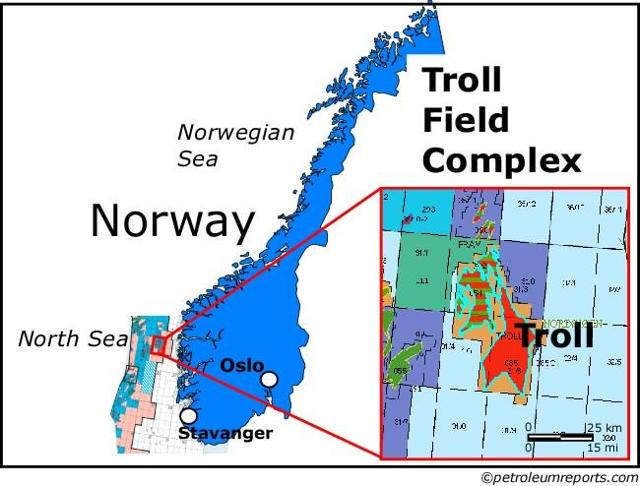 Source: RigZone
As shown above, the field is located approximately 65 kilometers west of Bergen. The field itself consists of two structures, Troll East and Troll West, with most of the gas lying in the already producing East structure. The plan that Equinor just submitted is for the Troll West structure so it is clearly intended to boost the total production from the field. Due to the potential economic impact, it seems unlikely that the Norwegian authorities will reject the plan. Assuming that is indeed the case, the Troll West field would likely come online sometime early next decade so would begin contributing positively to the company's results around that time.
On Thursday, July 5, 2018, Equinor announced that it gained approval from the Norwegian authorities to proceed with its Snorre expansion project. This $2.39 billion project involves the construction of a comprehensive subsea development, upgrading of the Snorre A installation, increasing gas injection into the reservoir, and setting up a gas import system to obtain this gas. The goal here is to extend the productive life of the aging Snorre field past 2040 and obtain another 200 million barrels of oil from it before the field is ultimately exhausted. Naturally, this will increase the amount of oil that Equinor can ultimately pull out of the field and sell.
The Snorre field is an oil and gas field located in the southern part of the Norwegian Sea. The field itself is located at the bottom of approximately 300 to 350 meters of water.
Source: RigZone
The Snorre field was originally developed by Saga Petroleum (now part of Equinor) and started producing oil in 1992. It has been producing oil and gas continually since that time, although Equinor has had to make some capital improvements at the site to keep the field productive. Thus far, Equinor has enjoyed success with these programs as the field was originally projected to reach the end of its productive life in 2011 but it is now projected to be exhausted around 2040. The goal of the newest project that was just approved is to extend its life beyond that date.
The Snorre field is one of the largest ever discovered, originally estimated to contain 1.4 billion barrels of oil, 6 billion cubic meters of natural gas, and 6 million tonnes of natural gas liquids.
Finally, on Friday, July 6, Equinor announced that it is purchasing Danish trading firm Danske Commodities for €400 million ($470 million). According to Irene Rummelhoff, executive vice president for new energy solutions at Equinor, the purpose of the deal is to strengthen the company's position in power generation from renewable energy.
Danske itself trades in natural gas and electricity futures, so this appears to be a move by Equinor to improve its ability to hedge its exposure to electricity rates as it continues to expand into renewable power generation technologies. Numerous energy companies operate trading desks as a way to reduce the impact that rapid commodity price swings have on their revenues. Equinor is merely joining the crowd here by purchasing an already existing operation instead of starting one from scratch.
The profitability of trading operations can be quite difficult to judge in advance. Personally, I somewhat doubt that the purchase of this commodity trading operation will have a huge impact on Equinor's profitability. What it may help to do though is smooth out the company's profitability over the business cycle, which itself has a certain benefit for shareholders, particularly those that are buy and hold types.
Despite these positive developments, Equinor remains undervalued relative to its big oil peers. With that said though, analysts recently revised downward the forward earnings growth expectations of Equinor which makes it look somewhat more expensive than it did a few weeks ago despite its stock price being almost flat over the period. One way that we can compare the valuations of different oil companies is by looking that the price-to-earnings growth ration, which is a way of adjusting the price-to-earnings growth ratio to account for forward earnings growth. According to Zacks Investment Research, Equinor will grow its earnings at an 11.68% rate over the next three to five years. At the current stock price of $26.97, that gives it a price to earnings growth ratio of 1.18. Interestingly, two weeks ago, the same analysts projected a 3-5 year earnings growth rate of 19.89%. Thus, analysts expect that the developments discussed above will slow the company's growth. I expect the opposite, although admittedly I am looking over much longer than a three to five year horizon.
Disclosure: I/we have no positions in any stocks mentioned, and no plans to initiate any positions within the next 72 hours.
I wrote this article myself, and it expresses my own opinions. I am not receiving compensation for it (other than from Seeking Alpha). I have no business relationship with any company whose stock is mentioned in this article.
Additional disclosure: I intend to initiate a long position in EQNR at some point in the near future but it will not be within 72 hours of publication.